I am so excited to be hosting my very FIRST giveaway and with Valentine's Day just around the corner I am so glad that the giveaway is for
EdenFantasys
!
A few months ago I placed an order on EdenFantasys and purchased these fortune cookies (now discontinued). My family loves to go to any one of the various Asian buffets in our area and we love to play jokes on each other. My brother in law is also super gullible, so this was a prank waiting to happen! At some point while he was out grabbing a plate I alerted his wife that I had some naughty fortune cookies and that I wanted her to play along. She was all for it! I placed the cookies on the table and encouraged my brother in law to eat them right away. He opened one and read it. It said something like, "You will get lucky tonight". His jaw dropped. They have a thing where they put weird or funny fortunes on Facebook and he said immediately that this one was going on Facebook. We opened a few more and all had a laugh. It was even more funny when we told him that they were "fake" and I had brought them in with us.

Not only does
EdenFantasys
have cute party items but they also have everything you could ever possibly need to make Valentine's night and every night extra special. EdenFantasys makes it amazingly easy to find the right products by offering some pretty neat features.
They offer an option for you to view the actual size of the item on your computer screen. All you do is get a credit card or a $20, match the size of the card or $20 with the on screen slider and then your item is viewable in actual size. How cool is that?! This works for most of the products on the site. Now you can see how big that
sex toy
will be or even the actual size of the candles, lotions and other products. It really helps to have a visual of what you are purchasing. I wish all sites would have a feature like this. :)
Another one of my favorite things about EdenFantasys is that every single product has a ton of reviews! It is so helpful to have quality reviews of each product. EdenFatasys has really put together a quality site offering a wide range of
adult products
.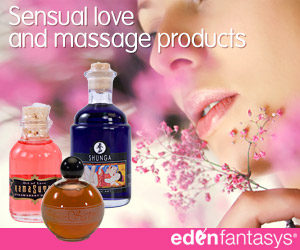 PRIZE: $25 gift code for EdenFantasys.com
Leave a comment on this post with the item(s) you would most like to purchase.
This blog is X-Rated so don't be shy. lol :)
Leave a comment for each of these that you complete. Each activity is worth 1 entry unless noted.
Pin something from this blog.
Tweet
about this giveaway. Ex: Enter to win a $25 GC with @RealWeird and @EdenFantasys
Comment on another post from this blog.
Blog about this Giveaway. (5 entries = 5 comments)